Don't settle for generic Accounting & Reporting. Your restaurant's metrics are not the same as a landscaping company. Yet, your accountant is likely providing you with the same generic reporting processed from bookkeeping software. There is a better way — a much better way. With RAS1 you have all of your bookkeeping along with customized financial reporting in your hands on a timely and accurate basis every week allowing you to stay profitable and gain control of your prime cost and operating expenses.
Pioneers for the business you love. There are many reasons why there is a number 1 in our name. In 1989, RAS1 started first in Nantucket providing bookkeeping and accounting solutions to high volume, seasonal restaurants. Over 30 years later, we are still truly the number one accounting solution for restaurants,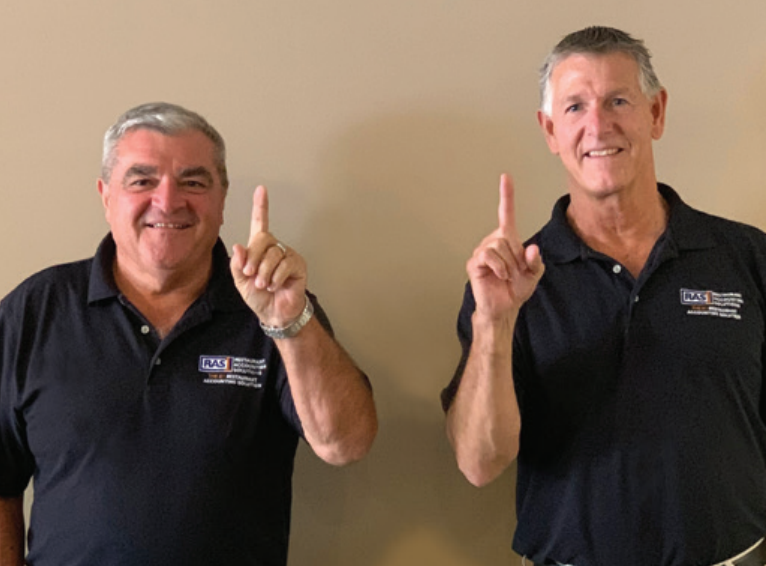 delivering weekly processing of bookkeeping and financial reporting to a much expanded restaurant client base with longevity to customers and membership with the MRA.
Can your current Restaurant Accounting Service truthfully say that?
It's the Solution in our name that sets us apart from other accounting service alternatives. Upgrade your Restaurant Accounting
Service

to a Restaurant Accounting

Solution

.
Call

508-862-2370

today.

THE #1 RESTAURANT
ACCOUNTING SOLUTION
Visit

www.RestaurantAccountingSolution.com

to learn more.
508.862.2370
|

P.O. Box 1812

|

233 Barnstable Road, Hyannis, MA 02601
"RAS1 has been nothing short of fantastic for the past 15 years. Before them, I had an entire corporate accounting department with a CFO and many bookkeepers. Now I simply have RAS1 with Arthur as my CFO and the RAS1 team replacing the huge overhead of an accounting department. Most importantly, I have reliable weekly bookkeeping and reporting and monthly financial statements that are fine-tuned and dialed in to all my restaurant holdings. I only wish I discovered my alternative accounting solution and moved over to RAS1 15 years sooner."
Anthony Athanas, Jr.
Owner, Anthony's Pier 4 Restaurant Group
---
"14 years ago, our legendary Boston Restaurant CPA, Mr. Saul Garlick, recommended RAS1 as an alternative to our then in-house accounting department. Thank you Saul for that recommendation and thank you RAS1 for continuing to provide the optimum of bookkeeping and financial reporting standards."
Rob Gregory,Owner,
Skipper Chowder House
---
"In the restaurant business, you can get in trouble really fast. That's the beauty of receiving accurate bookkeeping resulting in critical weekly and monthly reports. RAS1 lets you know where you are and where you should be like a road map, making sure percentages are in line at all times. I couldn't even imagine what it would be like to operate my busy restaurant without the RAS1 road map and team approach which I have had for over 25 years."
Gerry Manning,Owner,
Captain Parker's Restaurant
Rolling 4-Week
FLASH Reports
This one-page report will become your dashboard of gauges that will summarize key financial information you need to stay on top of your Sales, Labor and Prime Cost percentages every week.
You'll quickly recognize pain points — before they worsen — so you can change course and make better financial decisions.
Know your Prime Cost metrics! By far, your most important indicator of profitability.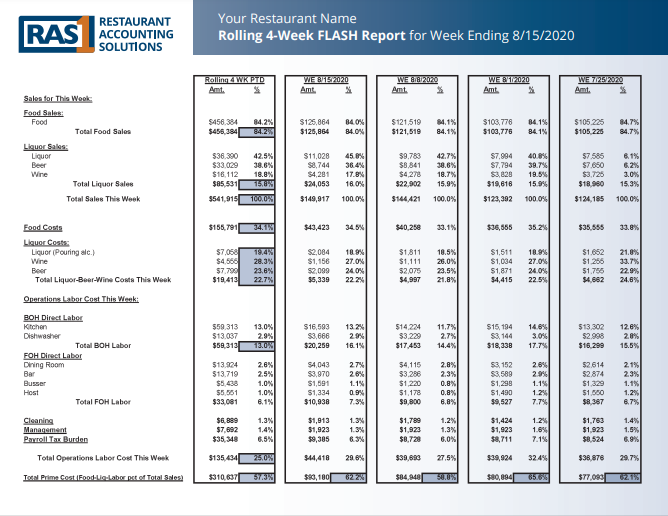 Weekly Payroll & Labor
Cost Summary
One page tells it all. A simple and concise summary of your restaurant's payroll information each and every week.
Control your own cash flow. No funds withdrawn from your accounts until they are due and payable.
Know your labor cost percentages at a glance.
Simple submissions of Weekly Payroll information.

THE #1

RESTAURANT
ACCOUNTING SOLUTION
To view more sample reports, visit:
www.RestaurantAccountingSolution.com